The conference is held at Comwell Copenhagen Portside. A unique metropolitan hotel with an international atmosphere located in Nordhavn, Alexandriagade 1, 2150 Copenhagen. Delicious and bright rooms provide air for the mind and peace for the brain. There is a view of the canal and in the beautiful courtyards fresh air can be drawn with a view over Nordhavn.
There is walking distance to Østerbro, and with the new metro ring, Nordhavn is connected to the City Ring and the rest of Copenhagen. It is possible to take the metro all the way from Copenhagen Airport to Comwell Copenhagen Portside, which is located by the metro station Orientkaj.
Distances and transport
Metro: 100 m. (station: Orientkaj)
Nordhavn train station: 1 km.
Copenhagen airport: 13 km. (metro connection)
Parking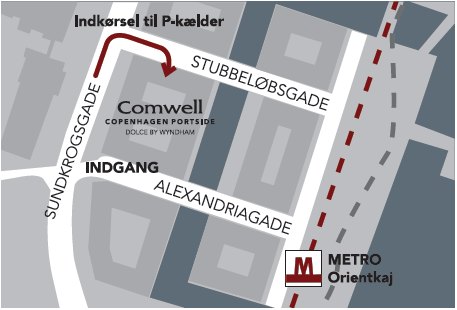 Parking basement under the hotel with 90-100 spaces.
Price per. hour: DKK 25, – Price for 24 hours: DKK 150, –
Parking on electric car space incl. charging.
Price per. hour: DKK 35, – Price for 24 hours: DKK 210, –
Indicative information on other parking conditions. Parking on road area on Levantkaj and Stubbeløbsgade (120 and 55 spaces respectively).
First 30 min. for free
Monday – Sunday at 07.00 – 17.00: DKK 18 / hour
Monday – Sunday at 17.00 – 07.00: DKK 9 / hour
Max. daily rate is DKK 120.00 per. continuously 24 hours.
Floor plan
The breakout sessions will be presented in room A, B and E. In the lobby you can visit the sponsor stands and get a cup of coffee or other refreshments. The lunch will be served in the restaurant. You are also free to use the Co-Work area thought-out the whole day.